DIY divorce in 3 simple steps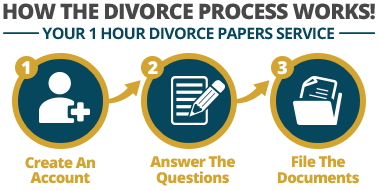 Divorce has become prevalent in our society, and it looks like the estimated 50% divorce rate is here to stay. The traditional way of divorce is quickly becoming a thing of the past, thanks in part to the technological advances. It should come as no surprise that the divorce process and technology have been combined into a do-it-yourself divorce process.
When spouses decide to file for divorce, going through the traditional divorce process can be tedious, expensive, and a hassle. Trying to figure out which documents or legal actions are needed is enough to make your hair fall out. Online divorce is becoming more popular because the process is basically an easy version of do it yourself divorce.
How it Works
The online DIY divorce process makes the process less expensive, faster, and more convenient for people seeking uncontested, no fault divorces. MyDivorcePapers.com is revolutionizing the process of do it yourself divorce. Filing for an uncontested divorce online eliminates the middleman and lowers the cost and filing time drastically for all that use it. Our simple and fully disclosed divorce service continues to help many file for divorce.
With an online, do it yourself divorce you get all the instructions you need to see your divorce through to the end. Our certified specialists will draw up papers specifically for you to file, as well as send clear instructions for how to file for divorce in your state of residence, and how to perform the necessary steps to ensure the divorce is valid. Whatever your circumstances are, MyDivorcePapers.com provides everything needed to finalize a divorce. Whether you have children, property, or even need to provide spousal support, your divorce forms are guaranteed to be legally valid in any courthouse.
How it Works For You
The MyDivorcePapers.com DIY divorce process is simple to complete, and eliminates the guesswork. Just fill out our questionnaire, which determines if an online divorce is the right process for your situation. If you qualify, pay the small fee, provide us with your divorce information, and the forms will be completed for you. Print our court-approved, completed forms and file the divorce forms with the court.
At MyDivorcePapers.com, we have an entire team of qualified professionals who are well versed in all areas of divorce, which ensures our online divorce forms are valid in all 50 states. Legal, professional documents provided at an affordable price from the convenience of your own home is the ultimate no-brainer when it comes to getting an uncontested, no-fault divorce. Allow our do it yourself process to simplify the divorce process.