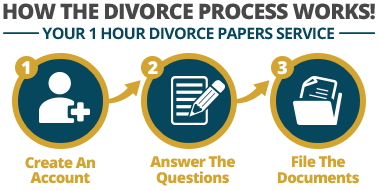 Online divorce is a more affordable, much faster, and easier option for couples seeking an uncontested divorce. Our easy, step-by-step process that helps prepare all of the necessary divorce forms, and guides you to your local courthouse where they can be filed.
Our documents are optimal for those looking for a quick and hassle free divorce. Although each state has its own filing requirements, we are still able to provide you with the right forms in no time at all. If both spouses agree on the terms of the divorce and decide upon an amicable dissolution, then why should the process take any longer than necessary?
Online Divorce is Quick, Cheap, and Easy
Online divorce is a great option for those looking to save money or to have their divorce finalized quickly. Filing for divorce online has become very popular because it can be completed confidentially and conveniently. Online divorce is now an option that more people are turning to every day.
By using an online divorce service in favor of more traditional methods, you are no longer at the mercy of an attorney's schedule or fees. Divorce is a notoriously expensive process, but with an online divorce those costs can be significantly reduced--in some cases, by thousands of dollars-- thus leaving more money in the pockets of those filing for divorce.
Not only that, but the process is far more convenient and far simpler than the traditional divorce process. There is no required meeting between lawyers and spouses, and no drawn out court process. Why choose a more costly, time consuming, and inconvenient option when a superior alternative exists?
With an online divorce, you get all the instructions you need to see your divorce through to the end. We provide specific, clear instructions for how to file for divorce in your state of residence, and how to perform the necessary steps to ensure the divorce is valid. Whatever your circumstances are, MyDivorcePapers.com provides everything needed to finalize a divorce. Whether you have children, property, or even need to provide spousal support, your divorce forms are guaranteed to be legally valid in any courthouse.
At MyDivorcePapers.com, we have an entire team of qualified professionals who are well versed in all areas of divorce, which ensures our online divorce forms are valid in all states. MyDivorcePapers.com is the most affordable and convenient option for uncontested divorce. Legal, professional documents, provided at an affordable price from the convenience of your own home, is the ultimate no-brainer when it comes to getting an uncontested, no-fault divorce.
Fill out our questionnaire, and take the steps needed to make the best out of a difficult time today.